"To succeed in life, you need three things: a wishbone, a backbone, and a funny bone."
~Reba McEntire ~

Stuff The Turkey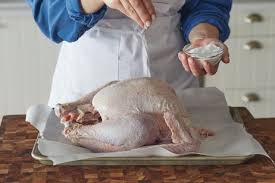 Baby Bruno was sitting in his grandmother's kitchen, watching her prepare the Thanksgiving meal.
"What are you doing?" Bruno asked.
"Oh, I'm just stuffing the turkey," his grandmother replied.
"That's cool!" Bruno said. "Are you going to hang it next to the deer?"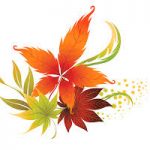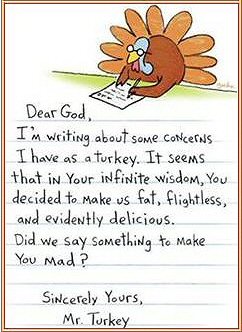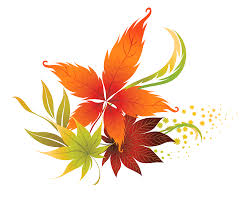 No One Diets On Thanksgiving
I love The Thanksgiving season, anticipating the cherished times with family and friends that no amount of money could buy. And besides no one diets on Thanksgiving! 
The smell of a turkey baking, pumpkin pies and the beautiful fall colored trees of November is my favorite time of year.  I love the family gatherings as we remembering each loved one who joins us and the cherished ones we have lost these past years. We can also reflect on God's love and grace. 
Over the year, there have been many tears, frustration, and fears as I have tried to learn God's love lessons in waiting. I think waiting is going to be a lifelong pursuit for me because I seem to be such a slow learner. I am so thankful that God doesn't give up on me, as he lovingly helps me to understand his purposes in my life.
And I pray that you and all God's holy people will have the power to understand the greatness of Christ's love—how wide, how long, how high, and how deep that love is.  Christ's love is greater than anyone can ever know, but I pray that you will be able to know that love.  Then you can be filled with everything God has for you.  
Ephesians 3:18-19 ERV
As God's peace fills my soul I know that everything is all right. God's plans are deeper, wider, and higher than anything, I could imagine, and in the loving arms of a faithful and trustworthy God, I know we will be safe.
As I reflected on this last year, I am reminded of all the love, encouragement and prayers of family and friends. What an extraordinary year. I read a little quote that said, "Dark fears flee in the light of God's presence". What a beautiful thought of comfort and peace as God brings us soon to another year.
Praying you have a wonderful Thanksgiving season with your family and friends. Thank you for stopping by and sharing your time with me today.©
Thank you, dear friends, for spending your time with me.
Have a wonderful Thanksgiving week, Travel safe
Sending love to you all. HUGS,
Lovingly, Karan 
***What is your favorite part of Thanksgiving?
****And yes in Canada we have snow, Burrrrrr. LOL