Hospital required regulations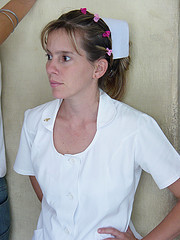 Hospital regulations require a wheelchair for most patients when they're being discharged. However, this girl working as a student nurse found one elderly gentleman — already dressed and sitting on the bed with a suitcase as his feet — who insisted he didn't need her help to leave the hospital.
After a chat about rules being rules, he reluctantly let the nurse wheel him to the elevator. On the way down, she asked if his wife was meeting him.
"I don't know," he said. "I think she's still upstairs in the bathroom changing out of her hospital gown."

The hospital  was an eye opening experience! LOl.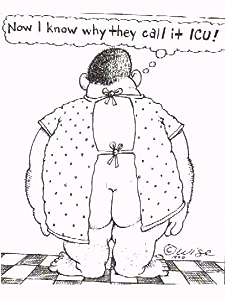 Sleeping with Strangers
Arriving back in my hospital room after surgery, I was enjoying the benefits of morphine, and anti-nausea medications. And nothing could keep me awake for the first two days. However on the third day I was awaken by a miss happy pants at 6:30 am and told the Urology floor of the hospital was overflowing. And because of the crowding problem my room become coed. My next two roommates would be gentlemen!
 I felt a little uneasy about the crooked curtain which hung wide open. When I mentioned it to the nurse, she whipped out of her pocket surgical tape to hold it together. I now have a whole new respect for surgical tape, it kept the curtains together my whole hospital stay. They call it is the nurses duct tape, it can fix anything, including broken fingernails. Who knew? I was so thrilled to get a roll when I went home.
In the next few days I learned more about the urinary track of both the female and male anatomy. I'm positive it was more then I needed to know.  It was way to enlightening. Lol. And I have never seen nurses get so excited for their patients when they pass gas or used the restroom. Honestly, the high-fiving and happy dancing around the room was hysterically infectious.  What a delight and blessing to have two caring and encouraging young nurses who brought both laughter and joy to my room every day.
Lying in the hospital and recovering at home I have had time to do some reflecting. When life slows down for me I have better focus and clarity of what is important to me.  I am constantly in awe of God's caring love in the little love lessons he teaches me daily. I am humbled by the caring hearts of friends, family and others who have faithfully prayed for me, even when I felt down and didn't know how much I needed them.  God has a wonderful way of letting us know He cares and loves us more than we can even imagine. The Bible says in,
Ephesians 3:20
Now to Him who is able to do exceedingly abundantly beyond all that we ask or imagine, according to the power that works in us.
God always sees the Big Picture of our lives, and knows just what we need and where I am.  I am not a stranger to Him.  Thank you for letting me share this journey with you, I love you!
Thank you for spending your time with me, I am honored by your friendship and compassion, Hugs
Lovingly, Karan