New Bag!
I remember how intimated I was stepping into the business world. I would always wear a business suit and three-inch heels, hoping to make a good impression. It was important to me to look pulled together so the people I dealt with would assume I knew what I was doing.
This was a little horrifying to me because I always carried a purse about the size of Texas. As she proceeded with her talk, I learned women who carried small purses are perceived as decisive, powerful, organized, and goal orientated. All the things I wanted to be and felt I was not.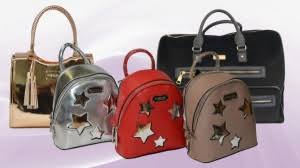 In that conference I learned big purse people were thought of as fun, artistic, easy-going and their purses were usually mess. (I knew that my purse carried papers, wrappers, candy, Swiss army knife and a telephone at the bottom I could never find. In fact, once something went into that purse, it could be lost forever. I thought my purse was my secret, I wonder if she had peeked.
At that moment I decided to become a small purse woman, so people would think I had all the attributes of a responsible businesswoman.
I laugh when I think back to those days when I put so much emphasis on a purse. Even funnier, I bought that small purse.
When I couldn't get everything into it, I ended up carrying two Safeway bags around with the rest of my stuff. I had my small purse(which looked good) and to everyone else, it looked like I had just been shopping at Safeway with the other two bags. It worked for me! Reality finally set in and I gave up my Safeway shopping bags, and went back to my wonderful, carry everything at once, big purse.
Although I am quirky, creative, emotional and carry a BIG purse. (Lookout, blonde coming through) I have learned I don't have to be like everyone else; God has given me the freedom and capacity to embrace the women that he made me to be. What a gift of Grace, I am free to be me. ©
And may you have the power to understand, as all God's people should, how wide,
how long, how high, and how deep his love is.  Ephesians 3:18 NLB

Thank you, dear friends, for spending your time with me.
 I love you all and am praying. 
 
HUGS,
Lovingly, Karan