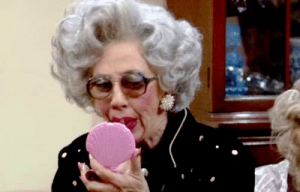 Grandma's Makeup Routine
Grandma was in the bathroom, putting on her makeup, under the watchful eyes of her young
granddaughter as she'd done many times before.
After she applied her lipstick and started to leave, the little one said,
"But Gramma, you forgot to kiss the toilet paper good-bye!" Unknown


 Reflections: Computer Hero's
I love my computer and learning all the different programs and research that I can do with it. It is like traveling the world, visiting family and friends and never leaving the house. How our world has changed over the years.
However, I am not very good with the technical side of the computer, if something goes wrong, I am stumped. And when the Internet specialist starts talking Technical terms they might as well be speaking Greek. My eyes just start to glaze over.
I must confess though I have a secret weapon, my son-in-law. He can fix anything that I mess up. And you guessed it I took my computer to the states this last month because it was in a desperate need of an intervention.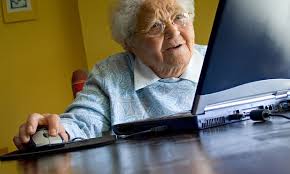 I am always amazed when my hero the Specialist sees me carrying my computer under my arm that he doesn't run in the opposite direction fast. He is gracious, understanding and kind. I am so thankful for him and the many talents he has been given.
While I find this technology age so amazing, nothing can compare to what God has done for me in my life. When I remember over the years how he has come to my rescue, always ready to help me when I make a mess. And I know He is near ready to protect, comfort and hear to me, I am so thankful for His patience.
Where would I be without his love and constant care? Like my favorite computer technician, he takes control of my life if I allow him and fixes the area's that need work and replaces the broken pieces gently with his healing love.© Ephesians 3:20 says,
          Never doubt God's mighty power to work in you and accomplish all this. He will achieve infinitely more than your greatest request, your most unbelievable dream, and exceed your wildest imagination! He will outdo them all, for his miraculous power constantly energizes you.
I know God's promises can be trusted because he has been faithful to me through all my years. He is enough for me! ©
Lovingly Karan
Thank you for sharing your time with me I love the privilege of hearing for each of you.
You bless my life. Have a wonderful weekend with the ones you love.
Hugs