The Beauty Bag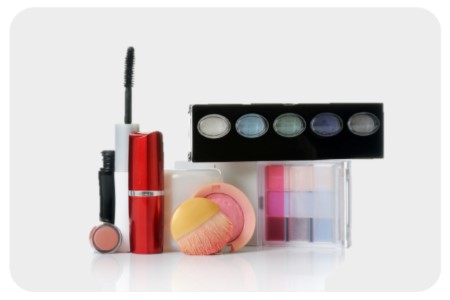 In my wardrobe, I use 2 different units of 13 pieces each.  Each unit has one dark neutral, a light neutral and a favorite color. I have taught how to build wardrobe for years and have found these units, not only save time shopping, but also save on the budget.
Unit #1 – Black and White color combination, and Red.
Unit #2 – Black and White color combination, and Fuchsia & Pinks
These units can be used all year. When I buy an item I look for these colors only.  No matter what I pull out of my closet, every piece will match in their unit.  Over the years I have added other accent colors, to make a new unit, but I have always stayed with the same two neutrals, black and white. 
Building these units makes it so easy to splurge on accessories which I love. It also save big on makeup.
I will show you what is in my cosmetic bag:
Unit #1.
1 – Red Lipstick

1 – Red Blush

1 – Charcoal eyeliner pencil, and Charcoal eye shadow
Unit #2
1 – Fuchsia Lipstick

1 – Fuchsia Blush

1 – Brown eyeliner pencil, and Brown eye shadow
These will cover all my wardrobe needs, so I am seldom tempted to look at other colors.
Many people ask about my favorite tips from 40 years in the cosmetic field with makeup artistry, photography makeup, modeling, theatrical and personal makeups.  Here are a few that I love and are not to expensive.
M·A·C STUDIO FACE AND BODY FOUNDATION, this formula provides a long-lasting, water-resistant finish and light weight.
Lancôme Effacernes, Long-wear, waterproof formula won't crease or fade. I have cried through many weddings, graduations and funerals. This product is a keeper in my books!
Eucerin Q10 anti-wrinkle sensitive skin cream, a dear friend turned me on to this cream. It inexpensive, and works like a charm. I use it both morning and night after cleaning my face.
Olay Regenerist, Serum, this goes on after my cream and works well under your makeup.

Lara Geller Spackle this is a beautiful primer, I call it my crack filler. LOL

O. Bigelow Cinnamint supreme 2X lip moisturizer, non-greasy and does a light plumping.

Maybelline Super stay 24 hour color lipstick, at my age this is feather proof which I notice I need more and more! Lol

Coconut Oil, I use it on face at night under the Eucerin cream, on my fingernails and hands, and hair. This has helped the dryness.



What are some of your favorite tips, let me know. I always am interested to see what others are doing. Let me know if this was helpful to you. Also if you have any questions regarding this blog let new know and I will try to answer you.  tons of love and Hugs
Lovingly Karan