Freckles and Wrinkled Beauty
An elderly woman and her little grandson, whose face was sprinkled with bright freckles, spent the day at the zoo. Lots of children were waiting in line to get their cheeks painted by a local artist who was decorating them with tiger paws.
"You've got so many freckles, there's no place to paint!" a girl in the line said to the little fella.
Embarrassed, the little boy dropped his head. His grandmother knelt down next to him. "I love your freckles. When I was a little girl I always wanted freckles, she said, while tracing her finger across the child's cheek. "Freckles are beautiful!"
The boy looked up, "Really?"
"Of course," said the grandmother. "Why, just name me one thing that is prettier than freckles."
The little boy thought for a moment, peered intensely into his grandma's face, and softly whispered, "Wrinkles." ~ Author unknown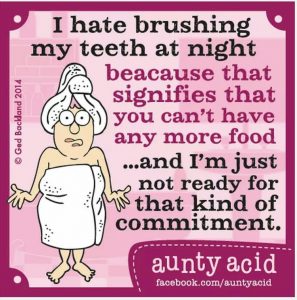 Where Are your Teeth? ~ 
Three hours past our planned departure time, my husband, Lyle, and I, along with our two teenage daughters, were finally pulling away from our southern Alberta home.  We were on our way to the State Fair in Great Falls, Montana, but the way our car was packed, it seemed like we were off on a world tour.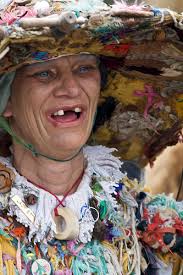 I was looking forward to six days of rest.  No cooking, no early mornings, and plenty of my favorite hobby—retail therapy. We had a poolside room, and our girls were ready to find their swimsuits and head for the water.  However, my husband (the practical one) decided we would have a relaxing supper first before the swimming suits came out of the suitcases and everyone went in all different directions.          
After a delicious Mexican dinner, I hurried back to our room because I had something stuck under my upper partial plate. As I rushed into the powder room, I took out my "two front teeth" and laid them on a tissue next to the sink.   After I had brushed my teeth, I wiped off the counter, threw the paper and tissue into the toilet, and flushed.  
I turned around to get my teeth and put them back in, but they were nowhere in sight.  I ran around the hotel room crying, praying, and hoping that I would find those teeth, but in my heart, I knew they were gone—flushed—adios—good-bye.          
My family returned to find me flustered and crying.  They were concerned, but before I told them what happened to my poor teeth, I made each one promise not to laugh. It did not help one bit.  By the end of my story, they were rolling with laughter and asking to see my toothless smile, which only brought more uncontrolled laughter.   I decided right there my vacation was over.  
I wanted to go right home. I told my family I certainly could not be expected to spend the rest of the week without my two front teeth. "Oh yes you can," my husband said.  "All you have to do is keep your mouth shut, and no one will know." (Now why didn't I think of that?)         
I spent the week more quietly than usual.  When I sometimes forgot myself or was carried away with the fun and laughter, my teenagers would lovingly point at their teeth to remind me that mine were still missing.   However, after the first few days, I forgot about my teeth and had a fun, memorable vacation.         
Just think of what we would have missed as a family if I had carried out my plan to go home because of pride and concern about how I looked. My daughter said we were making memories, and she was right.  Now that my daughters are grown women, we remember our vacation with great fondness. In Proverbs 11:2 (NIV)   It says,
"When pride comes, then comes disgrace, but with humility comes wisdom."
How often do we miss opportunities God plans for us because of our selfish pride?
Dear Father Forgive me for my selfish pride. Help me not to miss the good things in life you want to give me because I am thinking only of myself. Help me to put you first.  

Have you ever experienced vacation mishaps?
Thank you, dear friends, for spending your time with me.
Have a wonderful weekend. 
HUGS,
Lovingly, Karan