Can Our Sense of Humor Be Off?
"My sense of humor is slightly off this month. The adjoining apartment flooded, and my bathroom and part of my bedroom had damage. No one was living in the apartment.  A cracked toilet went undiscovered until a few days later when people noticed water rushing down the halls.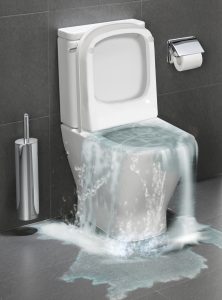 The last few months I've been waiting for apartment insurance approval and workers to show up and start  working. Then, when they finally inspected the damage, they discovered the dreaded asbestos. They spread plastic tents all over everything and fans are blowing full blast!  
Moving out on August 2nd and have been living with my daughter on their farm/ranch, about 12 miles out of town.
One weekend I decided I would try to stay in the apartment. Brushing my teeth and washing up in the kitchen, would be just like a camping.
However, the toilet became unusable, because they put it into the bathtub. The three brave tradesmen suggested I could run down the hall to the public restroom.
Somehow the idea of scurrying down the hall at night in my pajama didn't appeal to me. I almost burst out laughing when I realized they were serious! Apparently, they did not understand a mature bladder! 
I'm uncertain when I will be back in my apartment. I now have been out close to three months.
The last few months have been very discouraging and frustrating but I have a beautiful place to stay with a warm bed and wonderful food and company. To be honest, there is nothing to complain about.
Life can be like that for so many of us. We all make our plans but when unexpected events disrupt our agenda, we become upset. Besides, doesn't God know he needs to deliver a memo first? We need time to prepare and schedule an interruption, right?
When our schedules get messed-up and things get Crazy, I wonder if God just busts out laughing; He is the one in control of the universe, not me. He sees the Big Picture. God always takes care of us with his everlasting love and care. 
I love this verse it is so simple and encouraging.
We plan the way we want to live, but only God makes us able to live it.  Proverbs 16:9
Faith never knows where it is being led, but it knows and loves the one who is leading. Thank you, Father for loving me.

Thank you, dear friends, for spending your time with me.
I love you all and am praying. 
 
HUGS,
Lovingly, Karan