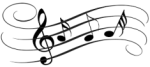 "These are a few of my favorite things"
Maalox and nose drops and needles for knittin', Walkers and handrails and new dental fittin's, Bundles of magazines tied up with string, These are a few of my favorite things.
Cadillac's, cataracts, hearing aids, glasses, Polident, Fixodent, false teeth in glasses, Pacemakers, golf carts and porches with swings, These are a few of my favorite things. When the pipes leak, When the bones creak, When the knees go bad, Then I remember my favorite things. And then I don't feel so sad.
Hot tea and crumpets, and corn pads for bunions, No spicy hot food nor food cook'd with onions, Bathrobes and heat pads and hot meals they bring, These are a few of my favorite things.
Back pains, confused brains, and no fear of sinnin', Thin bones and fractures and hair that is thinnin'. And we won't mention our short shrunken frames When we remember our favorite things.
When the joints ache, when the hips break, When the eyes grow dim, Then I remember the great life I've had, And then I don't feel so sad. THEN I REMEMBER THE GREAT LIFE I'VE HAD AND THEN I DON'T FEEL SOOO BAD! Author unknown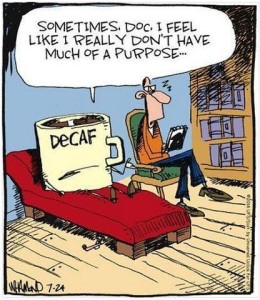 Quilting Reflections from a Novice: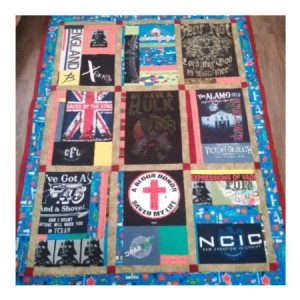 I have often admired the beautiful quilts that people make and all the intricate patterns and colors they use. When I sewed my first quilt it was many years ago, it was called a rag quilt. It was so easy I never made another one. Lol.
But as time passed, I decided to help my granddaughter make a T-shirt quilt. She is a T-shirt expert and loves each T-shirt she buys and wears. So for her, having her favorite T-shirts near was comforting. We cut, spliced, pieced and sewed blocks all the while trying to keep everything squared. It was difficult because I didn't know what I was doing and was trying to learn how to quilt from the internet.
Working on this quilting project, I talked to some wonderful quilters in our area who were encouraging and helpful. And seeing some of their beautiful quilts and pictures I started to become a little wobbly in my abilities. I wondered if my quilt would look alright and be acceptable. In my heart I knew it would not win any prizes, all I could see was the flaws. I worried about everything on that quilt. Could I do the binding right, would my hand stitches be even, would anyone even notice?
Do you ever doubt your abilities when you look at others and admire their talents and perfection? Only to find yourself grumbling how your talent doesn't measure up to their perfection. Instead of thanking God for the privilege that he gave you to serve him in your special way, and enjoying the process.
When my son-in-law came for a visit and helping me to square the quilt preparing it for the binding. He helped me to see a new quilt perspective. Pointing out all the flaws and mistakes I had made, he said," it adds character, everyone will know it is an original homemade quilt made with love."
Thank you, Lord, for those words of wisdom to remind me that love can transcend time and eternity because of you. My son-in-law was right, every stitch began with the love for a special granddaughter. And it was fun to see the process unfolded. I wonder if God loves to see the process of our lives unfold too. ©
Lovingly, Karan
How do you deal with doubting your abilities and comparisons to others? Let me know if you do that too.
Thank you, dear friends for sharing your time with me today, Wishing you a wonderful weekend with your friends and family. Hugs to all!