A New Kind of Ride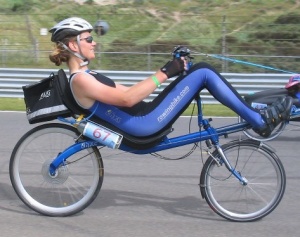 A recumbent bike what's that." I asked. My best friend was on the phone telling me of her latest bright idea. "Just think," she said, "I will be able to get exercise and it won't hurt my back". (A point well-taken since she had struggled with back problems for years.) Well if you say so, I reluctantly encouraged. Dee researches everything so she must know her bikes.
What is a recumbent bike? I had never heard of it (probably because I don't ride bikes, I fall off, I can't coordinate my hands, feet, brain and mouth at the same time.)
However, after our conversation, I rushed to the computer to look at this biking wonder. Looking at this contraption, I was not sure how a person would ride it. It looked like a "lazy Boy" recliner at full tilt with two wheels, handlebars, and peddles. I was sitting there trying to imagine my friend on that bike, lying down with her feet in the air, leisurely peddling along on two wheels. (I am not sure I would ride that bike even if it had six wheels!) Secretly I was hoping she would not get her bike, it looked dangerous!
At Christmas she received her 'Electric Blue' recumbent bike, a fancy "high speed" cycling outfit, complete with matching gloves, shoes and a racing helmet (with arrear view mirror no less). You go Girlfriend. My theory in life is if you are dressed for the occasion, and look the part, you can do the job. She sure looked the part of a speed racer, why she could have been on the cover of Biking digest!
For a week she practice and I thought she did well she only crashed a few times in an effort to get out of the drive way. While she tried to find her perfect balance on that two wheeled "lazy Boy" recliner. As her friend, I could cheer her on, but I would not have tried to ride that bike if you paid me.
After a week of wobbling around the neighborhood, she finally mastered the technique. Dee was full of confidence, had found her balance, and felt she was ready to let the world see her new 'Electric Blue" recumbent bike, complete with a matching outfit. What a sight.
However, she was having a few problems with the fancy helmet. She could not get the mirror to set right, and the chinstrap was a little
short. "I may have to get the chinstrap changed" she said, "It needs to be a little longer". I agreed since the strap sat a little below her lips! (What did I know, for all I knew that was what it was suppose to look like)
She headed off down the street full of self-confidence and knowledge that she painted an impressive picture on her bike. She was enjoying the expressions of people staring at her with puzzled looks on their faces as this "Electric Blue' blur went by and wondering what that contraption was.
Dee loved that she was the first in her community to have that recumbent bike and people seemed interested in it. She was Queen of the biking universe that day; flying around town her world was perfect.
As she came home that day feeling energized and renewed, two neighbor boys (about 8 or 9 years old) passed her on their bikes. One of them casually mentioned as he rode by, "Hey lady, did you know that you've got your helmet on backwards?" No wonder she couldn't see out of the rear view mirror on her helmet! Well so much for getting a longer chinstrap and good-bye to the cover of Biking Digest!
Like my dear friend, who had all the right equipment, but never found out how to use the helmet. She knew how it was supposed to look, and didn't need directions, wrong!
How often do I run around trying to please people at work, home, and in the community, getting stressed out, worn out and wiped out? I forget that God has given me a manual full of directions to live by, his Word. His directions will help me make wise decisions, give me a peace and hope, no matter what comes my way. I have His promises! He will never let me down.
 Lovingly,  Karan Gleddie
 Thank you for dropping by and sharing your time with me. Hugs
***Have you a blonde day story you would like to share, I am looking for a few more stories to finish "Everyone Has Blonde Days" book. If you are interested please send me an email and I will send you the information.  I know there are some funny stories out there to share. I would love to hear from you.  Have a great week!