Excuse Me,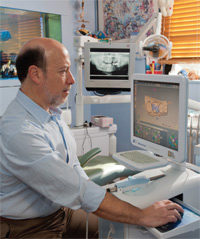 Do I know You?
Have you ever been guilty of looking at others your age and thinking, 'Surely I can't look that old?' Well, you'll love this one.

While sitting in the waiting room for my first appointment with a new dentist. I noticed his DDS diploma, which bore his full name.
Suddenly, I remembered a tall, handsome, dark-haired boy with the same name had been in my high school class almost 30 years ago. Could he be the same guy that I had a secret crush on, way back then?

Upon seeing him, however, I quickly discarded any such thought. This balding, gray-haired man with the deeply lined face was way too old to have been my classmate.
After he had examined my teeth, I asked him if he had attended St. Peter's High School.
"Yes. Yes, I did. I'm a Spartan," he gleamed with pride.

"When did you graduate?" I asked.He answered, "In 1979. Why do you ask?"
"You were in my class!" I exclaimed.
               He looked at me carefully. Then, that ugly, old, bald, wrinkled, fat, gray-haired,
decrepit son-of-a-gun asked,"What did you teach?"  
Author Unknown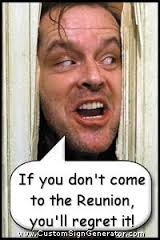 Reflections;
I recently received an invitation to my High School reunion in October.  It's a good time to travel to San Diego when the weather is cooler.  I laugh thinking about how many years it has been since I graduated. I attended three previous reunions, and each one was fun and different.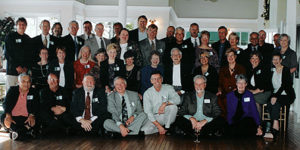 At our ten year reunion, it seemed like we spent our time telling one another about our great accomplishments. We wanted everyone to know we were successful, we were still young and wanted to make an impression. We were still under the notion that money, success, and power was all we need in life to make us happy. Of course we though no one had changed a bit, just dressed fancier. 
At our twenty year reunion, we were older and a little less formal.  It was fun seeing all the pictures of families, hearing about hobbies and sporting events. By year twenty we had lost a few of our classmates, and we took the time to remember them.
Life had been a little tougher, and each one had endured some personal loss.  I thought when I left the reunion I knew each person a little better.
My next reunion was my favorite.  We came casual, and we had to wear nametags with our graduation picture on it, so we knew who people were. Lol.  Some lost hair, gained weight, had new spouses and again we had lost some of our classmates.  We hugged, laughed, told funny stories and just enjoyed each other's company. I were much older, had life experiences and lived through extraordinary circumstances.  We learned we might plan our life, but we cannot control it.  And that is OK. 
To think it had taken us that long to realize there is a God who loves us and he is in control.  He is the one that plans my path. And because He knows I will fall, make mistakes, He will walk with me all the way, and I am never alone. The Bible says;
Jeremiah 29:11 (NLT)
For I know the plans I have for you," says the Lord. "They are plans for good and not for disaster, to give you a future and hope.
I am looking forward to my reunion in October, and hoping I will be able to go and see the people who I have learned to love. ©
Lovingly, Karan
Have you gone to a school reunion, How did I go?
Thank you, dear friends for spending your time with me, Have a wonderful weekend. Hugs to all.
Have a great week, HUGS