You're a Mom When …
Your feet stick to the kitchen floor…..and you don't care.
You can't find your cordless phone, so you ask a friend to call you, and you run around the house madly, following the sound until you locate the phone downstairs in the laundry basket.
Your favorite television show is a cartoon.

You're willing to kiss your child's boo-boo, regardless of where it is.
Your baby's pacifier falls on the floor and you give it back to her after you suck the dirt off of it because you're too busy to wash it off.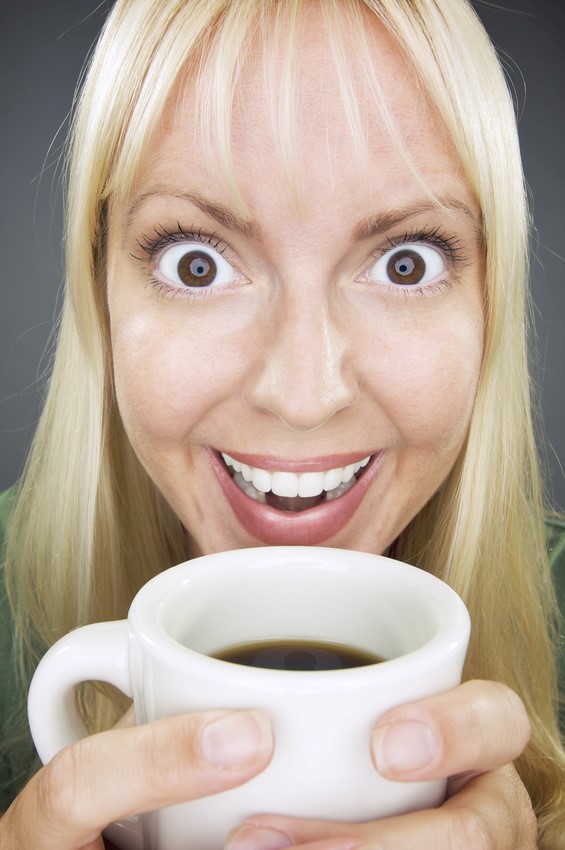 Your kids make jokes about farting, burping, pooping, etc. and you think it's funny.

You're so desperate for adult conversation that you spill your guts to the telemarketer that calls and HE hung up on YOU!
The closest you get to gourmet cooking is making Rice Crispies bars
You are out for a nice romantic meal with your husband, enjoying some real adult conversation when suddenly you realize that you've reached over and started to cut up his steak.
You spend a half hour searching for your sunglasses only to have your teenager say, "Mom, why don't you wear the ones you pushed up on your head?"

You weep through the scene in Dumbo when his mom is taken away, not to mention what Bambi does to you.

You can never go to the bathroom alone without someone screaming outside the door.
You find yourself humming the Barney song as you do the dishes.

You hear a baby cry in the grocery store, and you start to gently sway back and forth, back and forth. However, your children are still at school! Author Unknown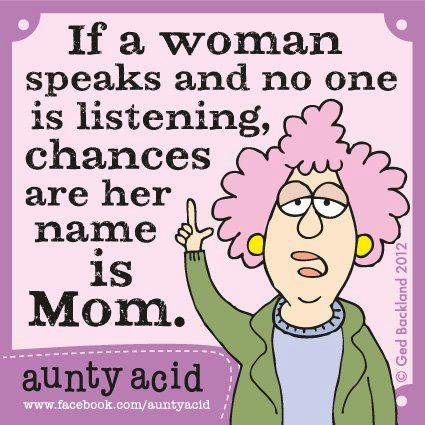 Reflections:  Are You Like Your Mother"                                                                      
People would say, "You're just like your mother" and I would cringe. At the ripe old age of 15, 20 and 28, those were not the words I wanted to hear. I wanted to be a super mom, you know, the woman that did and had it all. I was going to be organized, clever and insightful at life. No traumatic crisis for me.
My mother came from a harsh background; I think she spent her life trying to work through the difficulties she encountered as a child. She strived to be understanding and kind towards others. Unlike her parents, she achieved her goal. There were painful personal and emotional struggles in her life, as well as great highs. Mother was always optimistic no matter what life handed her. Her motto was: "Tomorrow's a brand new day."
She worked hard to put a roof over our heads and food on the table, never giving up or expecting handouts. Although others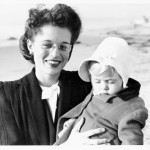 thought we were poor, I can't say that we ever thought we were. We always had enough, when we outgrew our shoes and clothing; she made sure we had something new to replace the old. I often wondered how she worked her magic with the budget, but as I look back I realize she went without so that my sisters and I would have more opportunities and a few extras.
Mother loved a good deal, so thrift stores, Salvation Army, garage sales and flea markets were thrilling when she found the ultimate bargain.
She loved her flower beds and gardening much better than house cleaning and often said she felt closer to God outside. She loved to spend time talking to Him in the quietness of the morning as the sun rose on a new day.
We knew mother loved us and loved God too. She trusted Him, leaned on Him, and believed His promises would sustain her throughout life. She taught us daily about God's grace, forgiveness, and love. Through her life, we were able to see how God faithfully protected and care for our needs. My mother has given me a lifetime of wonderful memories that are worth more to me than silver and gold. 
Now when I hear "You're just like your Mother," I say thank you. I pray that my children will know how much they are loved and that they would see the light of God's love in my life too.©

 Thank you for sharing your time with me dear friend, what are your special Mother's Day memories of your mother?
Happy Mother's Day!
Lovingly, Karan