Mrs. Green Thumbs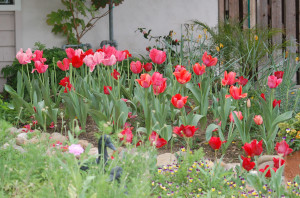 I was a California beach bunny who married a Canadian rancher—a real cowboy. I wanted surf, he wanted turf. I loved rock and roll, he loved country.
I came to Alberta in go-go boots and a beehive hairdo and stuck out like a wild turkey at a chicken convention. I knew nothing about farming and ranching, while the women of this rural community could put Laura Ingalls Wilder to shame.
They drove tractors and combined at harvest time, rode horses, irrigated crops, and cooked meals for their working crews. They kept well-manicured yards, exquisite flowerbeds, and vegetable gardens and still had time to can everything.
I soon realized my expertise in makeup application; wardrobe and image consulting were not going to be useful skills on a ranch.  How I walked, sat, and got in and out of a car while holding my knees together would not help me ride a horse or drive a tractor in a more ladylike manner…
Efficient, no-nonsense women surrounded me and I longed to be accepted by them. I told myself I was a woman just like them, only wrapped in different packaging and definitely blonde.  
In desperation, I asked a friend in a nearby town who was known for her "green thumb" to help me design dazzling flowerbeds would impress these local women. With my diagram in hand, I needed only to stop at the garden center and buy the exact plant to go in the exact spots  coincided with the numbers on my friend's plan.
However, while I was preparing the soil for my new flowerbeds, I noticed a large plant full of flowers  looked healthy and robust. I thought it would add extra dimension to the other flowers in my new flowerbeds, so I placed the lovely plant next to the front door.  
All the while, I felt quite satisfied with my own little touch of creativity. After planting, I waited a week to make sure all the plants lived before inviting the women over to admire my floral extravaganza. Surely, they would appreciate all the hard work I had put into this project.
When they walked through the gate, and began to laugh I was confused, and I wasn't sure why they were laughing, so I laughed with them. As it turned out, my healthy, robust plant, which I had planted, front and center, was in reality a blooming "Stink Weed." 
Isn't that how life is? I want to be loved and accepted for who I am, weeds, warts, and all, yet, I am afraid to let people see my flaws. I work so hard to be accepted, recognized, and loved by others. In Jeremiah 31:3b it says, "I have loved you with an everlasting love."  His love for me is unconditional, constant, and forever.
I am so glad God loves me; He knows all about me, and even calls me by name. I do not have to worry about fitting in; I am already accepted, recognized, and loved by Him.
In this busy world it is hard to find a place to fit in sometimes.  Do you ever feel like that, what do you do? I would love to hear from you, just leave a comment.
Thank you for stopping by and sharing your time with me today.
Lovingly, Karan